"
Well, I say we throw a party. Just like the old days. Invite some people over, sing some carols.
"
— Johnny Rose[src]
"Merry Christmas, Johnny Rose" is a holiday special and an extra thirteenth episode in the fourth season of Schitt's Creek. It is the fifty-second episode overall.
Plot Summary
On the night before Christmas Eve, Johnny has a dream about the lavish Christmas parties that he and his family used to host. Feeling now that their lives are back on track, Johnny wants to have one of those old fashioned Rose Christmas parties this year, which means, if it is to happen, planning, organizing, and arranging everything in approximately twelve hours. He has to get Moira, David, and Alexis on board, and delegate the tasks to get it done, which may be easier said than done. But as one hurdle after another arises, from Alexis misinterpreting what it means to be in charge of the guest list which she and Ted will not be on anyway as they have other plans already to spend with Ted's vet friends who Alexis has yet to meet, to Ray, who has the only Christmas tree lot in town, gouging his customers on this, the day before Christmas, to David refusing to provide Christmas decorations and ornaments from the store preferring to sell such items to actual paying customers meaning that Johnny has to scrounge whatever old ornaments that Stevie's grandmother may have left at the motel. Johnny begins to have the feeling that this Christmas may not be like the Christmases from their past, which may not be a totally bad thing. But the true spirit of Christmas may eventually surface in Schitt's Creek at the Rosebud Motel.
Cast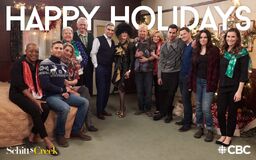 Starring:
Guest Starring:
Co-Starring:
Lili Connor as Grace
Stewart Arnott as Lawyer
John Bourgeois as Don Taylor
Sherry Miller as Bev Taylor
Mary Kelly as Jazzagal #1
Jennifer Foster as Jazzagal #3
Divine Brown as Jazzagal
Christina Song as Jazzagal #2
Trivia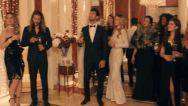 It is revealed in this episode that the Roses have been living in Schitt's Creek for a little over two years.
This episode gave the audience the first appearance of Stavros, Alexis' former, pre-Schitt's Creek, boyfriend.
Community content is available under
CC-BY-SA
unless otherwise noted.