Schitt's Creek (stylized as Schitt$ Creek) is a Canadian television sitcom created by Eugene Levy and his son Daniel Levy. Season one of the series premiered on the CBC Television on January 13, 2015. On February 11, 2015, season one began airing in the United States on the Pop network.
On January 12, 2015, the CBC renewed the show for a second season. On March 17, 2015, Pop announced that it would continue airing the show in its second season. The second season premiered January 12, 2016 on CBC and premiered March 16, 2016 on Pop.
On February 17, 2016, the CBC renewed the show for a third season. On March 3, 2016, Pop renewed the show for a third season. The CBC began broadcasting the third season of the show on January 10, 2017. Pop began its broadcast a day later, on January 11, 2017.
On March 10, 2017 both networks renewed the show for a fourth season. The CBC began broadcasting the fourth season of the show on January 9, 2018, while Pop began broadcasting on January 24, 2018.
On March 6, 2018 both networks renewed the show for a fifth season. The CBC began broadcasting the fifth season of the show on January 8, 2019, while Pop will begin broadcasting on January 16, 2019.
A Holiday special entitled "Merry Christmas, Johnny Rose" aired on December 18, 2018 on the CBC, and on December 19, 2018 on Pop.
Schitt's Creek is produced by Not a Real Company Productions and has won various accolades, including an ACTRA Award and 11 Canadian Screen Awards. It is the first Canadian comedy series to be nominated for a Critics' Choice Television Award for Best Comedy Series.
Plot
The series follows Johnny Rose (Eugene Levy), a wealthy video store magnate and his wife Moira (Catherine O'Hara), a washed up soap star, who, after losing all their money to dubious investments, are forced to rebuild their lives in their only remaining asset: the small town of Schitt's Creek, which they once purchased as a joke gift for the birthday of one of their children. They wind up living in two adjacent rooms of a rundown motel with their pampered adult children; a son David (Daniel Levy), a super-uber pansexual hipster and a daughter, Alexis (Annie Murphy), a selfish, club-going, socialite. The cast also includes Chris Elliott, Jennifer Robertson and Emily Hampshire. The show is based on a series of hilarious situations which involve the once filthy rich family and their big city, worldly attitudes suddenly confronted by small town living, with honest, down to earth, hard working folk providing the backdrop.
Production
The series is filmed on location in Goodwood, Ontario, in the Regional Municipality of Durham of the Greater Toronto Area and Mono, Ontario, where the motel scenes are filmed. The interior scenes for the first two seasons were filmed at Pinewood Toronto Studios in Toronto, while the interior scenes for the third season were shot at Dufferin Gate Studios in Toronto.
Cast and characters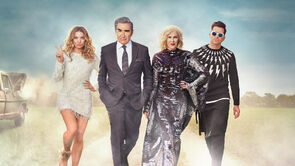 Starring:
Recurring Cast:
Reception
The first season of Schitt's Creek received mixed reviews. On Rotten Tomatoes the first season has a rating of 61%, based on 23 reviews, with an average rating of 6.38/10. The site's critical consensus reads: "The title is one of the best jokes of Schitt's Creek, but performances from Eugene Levy and Catherine O'Hara give the writing a comedic boost." Subsequent seasons of Schitt's Creek have been more positively received, with the show growing in popularity after debuting on Netflix in January 2017.
On Metacritic, the first season has a score of 64 out of 100, based on 11 critics, indicating "generally favourable reviews".
Reactions from Canadian reviewers have ranged from raves to pans. Vinon Minay of the Toronto Star wrote that the show "is not just a welcome addition to prime time: it is one of the best CBC comedies in years". John Doyle of The Globe and Mail, however, sharply criticized the show saying "Schitt's Creek is droll? Try smug and self-satisfied....There is no edge to Schitt's Creek. It's cozy comedy and perhaps the tightness of the ensemble – bound by family, old alliances – blinds then to the lack of hilarity in what they're doing. Comedy is hard and the show is soft-core comedy." Doyle concluded saying "Many viewers will approach Schitt's Creek with advance affection. They will relish seeing Eugene Levy and Catherine O'Hara working together again. They will savour the father/son dynamic between Eugene and Dan Levy. That's peachy too. But it will camouflage the fact that the show is as anodyne and polite as the feel-good remarks made by its stars when asked about it. It's nice and it's droll, but it fails."
After being picked up by Pop, American reception has been mixed to positive. Los Angeles Times describes the show as "very funny, beautifully played, sometimes touching and, though its premise is familiar — rich family loses money — quite its own animal." and New York Post has stated that "The Levys nicely develop their fish-out-of-water concept by showing how the family tries to fit in out of necessity". On the other end of the spectrum, Mike Hale of The New York Times called Schitt's Creek "a show that's drab and underwritten, with potentially amusing (if familiar) situations that never build to more than a chuckle or a nod of recognition: Yeah, that could have been funny."
The series has also been noted for its portrayal of a queer, pansexual character, played by Daniel Levy, as well as the fact that David's sexuality is simply accepted by the other characters with no expressions of homophobia entering into the storyline.