Schitt's Creek (stylized as Schitt$ Creek) is a Canadian television sitcom created by Dan Levy and his father, Eugene Levy which premiered on Canada's CBC Television on January 13, 2015, and on the United State's Pop network on February 11, 2015.
On March 6, 2018, the show was renewed for a 14-episode fifth season, which aired on January 8, 2019. On March 21, 2019, it was announced the show would air a sixth and final season consisting of 14 episodes. The sixth season began airing on January 7, 2020.
Schitt's Creek is produced by Not a Real Company Productions and has won various accolades, including an ACTRA Award and 18 Canadian Screen Awards. It is the first Canadian comedy series to be nominated for a Critics' Choice Television Award for Best Comedy Series and the first to win a MTV Movie & TV Award, winning best Best Comedic Performance for Dan Levy in 2019. It is also the first program from Pop to receive Primetime Emmy Award nominations, including Outstanding Comedy Series.
Synopsis
The wealthy Rose family—video store magnate Johnny (Eugene Levy), his wife and former soap opera actress Moira (Catherine O'Hara), and their adult children David and Alexis (Dan Levy and Annie Murphy)—lose their fortune after being defrauded by their business manager. They are forced to rebuild their lives with their sole remaining asset: a small town named Schitt's Creek, which Johnny had bought David as a joke birthday gift years earlier.
The Roses relocate to Schitt's Creek, moving into two adjacent rooms in a run-down motel. As the family adjusts to their new lives, their well-to-do attitudes come into conflict with Schitt's Creek's more unsophisticated and down-to-earth residents, including mayor Roland Schitt (Chris Elliott), his wife Jocelyn (Jennifer Robertson), and the motel's manager, Stevie Budd (Emily Hampshire).
Cast and characters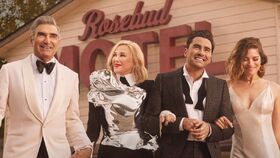 Starring:
Recurring Cast:
Development and production
Conception
Dan Levy came up with the idea for the show while watching reality television. He told Out.com, "I had been watching some reality TV at the time and was concentrating on what would happen if one of these wealthy families would lose everything. Would the Kardashians still be the Kardashians without their money?" He turned to his father, Eugene Levy, to help develop the show; Eugene Levy came up with series title. Daniel Levy originally decided to make the location of Schitt's Creek vague, but in August 2018 said that it is in Canada.
The Levys initially pitched the show to several networks in Canada and the United States. Cable networks HBO and Showtime passed on the series, while broadcast networks ABC (United States) and the CBC (Canada) expressed interest. The show was first sold to the CBC, but the Levys decided against ABC as its U.S. broadcaster due to the network's alleged history of creative interference. Schitt's Creek eventually found a U.S. home on Pop TV after striking a deal with network head Brad Schwartz, who had previously hired Daniel on MTV Canada. ITV Studios Global Entertainment also partnered with the CBC and Pop to distribute the show worldwide. The majority of production costs are covered by the CBC.
During the early stages of development, various networks suggested the title of the show be changed to make it sound less profane. The Levys resisted these suggestions and argued "Schitt" was a legitimate last name. To prove their point, they brought pages copied from a phone book to the CBC showing listings for individuals with the "Schitt" surname. The CBC agreed and allowed the Levys to keep the original title. The name has still faced censorship issues during promotional tours in the United States, with many networks shortening the title or providing extra disclaimers before using it on-air.
Annie Murphy was cast as Alexis after Abby Elliott, who was initially slated for the role, had to drop out. Eugene Levy suggested Catherine O'Hara for the role of Moira.
The executive producers are Eugene Levy, Dan Levy, Andrew Barnsley, Ben Feigin, Fred Levy, and Kevin White. Dan Levy is the showrunner.
Filming style and locations
is filmed using a single camera set-up with no live audience or laugh track. The interior scenes for the first two seasons were filmed at Pinewood Toronto Studios in Toronto, while interior scenes for season 3 were shot at Dufferin Gate Studios in Toronto. The remainder of the series is filmed on location in Goodwood, Ontario, the Regional Municipality of Durham of the Greater Toronto Area, and Mono, Ontario, where the motel scenes are filmed. Stouffville, Ontario also served as a filming location for an unspecified number of scenes in the series' first two seasons, and scenes involving the fictional retailer, Blouse Barn, in seasons two and three were filmed on location in Unionville, Ontario. Exterior filming also took place at Rattlesnake Point in Milton, Ontario for season five's "The Hike." The opening shot of the first season features Lisa Vanderpump's former Beverly Park estate as the façade of the Rose family estate.
Music
Schitt's Creek features several musical performances from its main and supporting characters. The majority of these performances feature the town singing group, the Jazzagals. Throughout the series, they have covered "It's Raining Men," "Baby, I'm Yours," "Takin' It Home," "Silent Night," and "Islands in the Stream."
In season four's "Asbestos Fest," David and Moira perform a duet known as "The Number." This compilation of holiday songs was regularly performed at the annual Rose Christmas party and included samples from "Oh Come All Ye Faithful," "Deck the Halls," and "God Rest Ye Merry Gentlemen." The song was arranged by Moira's portrayer, Catherine O'Hara.
In season four's "Open Mic," Patrick sings an acoustic cover of Tina Turner's "The Best" as a declaration of love to David. The song was arranged and performed by Patrick's portrayer, Noah Reid. After airing on Schitt's Creek, Reid's version of the song was released on Spotify and iTunes, where it reached #1 on the Canadian charts. All proceeds from the single were donated to the Ontario charity, LGBT Youth Line.
In season five's "The Hospies," Alexis auditions for a community theatre production by singing "A Little Bit Alexis," the theme song from her defunct reality show of the same name. Alexis' portrayer, Annie Murphy, who wrote and performed the song for the show, says she drew inspiration from the pop songs of Paris Hilton and Lindsey Lohan. Menno Versteeg and Nixon Boyd of the Canadian band, Hollerado, also helped produce the song. "A Little Bit Alexis" was released as a single on Spotify and iTunes, where it reached #28 on the Canadian charts.
In season five's "Life is a Cabaret," several main characters perform "Willkommen" from the musical Cabaret. Stevie also sings a second number, "Maybe This Time," as her Cabaret character, Sally Bowles, in the same episode. Both songs were performed in front of a live audience during filming.
Broadcast
Schitt's Creek has been co-broadcast in Canada and the United States since 2015. The show initially premiered on the CBC in Canada on Tuesday, January 13, 2015 at 9:00 pm/9:30 pm NT with back-to-back episodes. It made its debut in the United States on Pop TV on Wednesday, February 11, 2015 at 10:00 pm ET/PT. Pop moved the series to an 8:00 pm ET/PT time slot with an encore broadcast at 11:00 pm ET/PT for seasons two through four; it returned to its original 10:00 pm ET/PT time slot for season five. The series maintained staggered premieres throughout its first five seasons, with new seasons debuting in Canada before being broadcast in the United States. The series' sixth and final season will debut simultaneously in Canada and the United States on January 7, 2020.
As of 2019, the series also airs on 4Music in the UK; Viacom 18 in India; Fox Asia; and ABC Comedy in Australia. It was previously broadcast in New Zealand by TV2 and TVNZ on Demand, in Australia by ABC and its iView streaming service, and on Comedy Central in India. The five seasons appear, though not always together, on different streaming television services worldwide. Netflix carries the full series for viewers in the U.S., UK, Ireland, Japan, South Africa, and Australia. CW Seed, a streaming service for the American CW network, also carries the first four seasons for viewers in the U.S.
Syndication
In 2018, Debmar-Mercury, a division of Lionsgate, acquired the U.S. syndication rights to Schitt's Creek. The series is scheduled to debut in syndication on Fox Television Stations throughout the U.S. during the Fall 2020 television season.
Reception
Critical response
The first season of Schitt's Creek received generally positive reviews. It holds an approval rating of 90% on Rotten Tomatoes based on 23 reviews, with an average rating of 9/10. The website's critical consensus reads, "The title is one of the best jokes of Schitt's Creek, but performances from Eugene Levy and Catherine O'Hara give the writing a comedic boost." On Metacritic, the first season has a score of 64 out of 100, based on 11 critics, indicating "generally favourable reviews". Vinay Menon of the Toronto Star wrote that the show "is one of the best CBC comedies in years," though John Doyle of The Globe and Mail sharply criticized it as "as anodyne and polite as the feel-good remarks made by its stars when asked about it. It's nice and it's droll, but it fails."[ After being picked up by Pop, the Los Angeles Times described the show as "very funny, beautifully played, [and] sometimes touching", while Mike Hale of The New York Times called Schitt's Creek "drab and underwritten."
Subsequent seasons of Schitt's Creek have been more positively received, with the show growing in popularity after debuting on Netflix in January 2017. On Rotten Tomatoes, seasons 2, 4 and 5 have approval ratings of 100%, with season 4's consensus reading, "The comedic real estate value rises for Schitt's Creek in its fourth year, the series gradually maturing into appointment viewing with a big, beating heart beneath its absurdity." Bridget Read of Vogue wrote that while the series "started off with typical fish out of water scenarios," it has "fully come into its own, with a whole cast of Twin Peaks-meets-Christopher-Guest-universe characters that are as equally endearing." In New York Magazine, Maggie Fremont wrote that "the show takes a few episodes to get into its groove, but once it does, you'll never want to leave." The series has placed on annual best-of lists published by Esquire, Glamour, The New Yorker, and Variety. In 2019, the series was named "The Best Show on TV Right Now" by TV Guide.
The series has also been praised for its portrayal of a pansexual character, played by Dan Levy, as well as for how David's sexuality is simply accepted by the other characters with no expressions of homophobia in the storyline.
Awards and nominations
In 2015, Schitt's Creek's first season received two Directors Guild of Canada awards from three nominations. At the 2016 ceremony, season 1 received nine Canadian Screen Awards from 16 nominations. Schitt's Creek's second season received 13 nominations at the 5th Canadian Screen Awards. In 2018, the series received nominations from the US-based MTV Movie & TV Awards and the Critics' Choice Television Award. In 2019, the series was nominated for 15 Canadian Screen Awards, winning the award for Best Performance by an actress in a Continuing Leading Comedic Role (Catherine O'Hara) and Best Comedy Program or Series. The series is also nominated for four Primetime Emmy Awards, including Outstanding Comedy Series.
External links
Community content is available under
CC-BY-SA
unless otherwise noted.