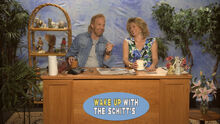 "Wake Up With The Schitt's" was a three minute morning television segment inside the universe of Schitt's Creek ("a show within a show"). The show aired for one season, comprising of 8 episodes, until it was cancelled and replaced by a live stream of a Schitt's Creek traffic cam.
It was hosted by Jocelyn and Roland Schitt, who took their three minute time slot to comment on all of the town's exciting happenings at the moment. The show was filmed on location at W-CR-EEK TV studios and produced and directed by Bill Bobbins.
In reality, the segment took the form of a companion miniseries for the first season of Schitt's Creek, posted on the show's YouTube page.
Credits
Hosts - Jocelyn Schitt & Roland Schitt
Producer - Bill Bobbins
Director - Bill Bobbins
Camera Operator - Bill Bobbins
Production Assistant - Bill Bobbins
Lighting Technician - Bill Bobbins
Audio Mixer - Bill Bobbins
Writer - Jocelyn Schitt
Writers Assistant - Roland Schitt
Catering - Café Tropical
Executive Financer - Bosley Murphy
Special Guests
Episodes